---
1. Myth-busting and liberalization of marketing automation
MARTECH was once reserved and it's still, wrongfully, perceived as available only to the rich and powerful with big cash to spend on software. That is not true anymore. The latest software technologies can make digital transformation accessible to everyone.
Moreover, true DIGITAL TRANSFORMATION is not only affordable, but also produces fast results with just a small amount of resources.
Martech stands for Marketing Technology. Software and tools that assist in achieving marketing goals. In a wide acceptance, Martech has grown to include also Sales and Customer Support.
The most common 5 components of an "automation solution" are CRM, Sales Tool, Marketing Tool, Customer Support Tool, and Content Management Tool (CMS).
There are a lot of myths out there related to Martech: it's expensive, especially top solutions like Salesforce or HubSpot; it takes a long time to implement, it could even take years; it's hard to learn and use. Completely wrong! The truth is marketing automation can get you three times more results with half the resources. The secret is to choose the right platform for your business
2. Platform selection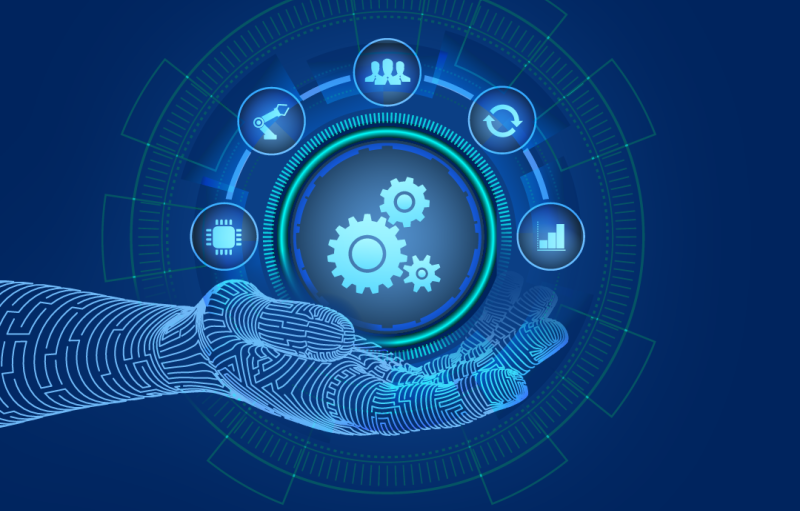 There are literally thousands of tools on the market, each solving a particular problem. Some of them are really good.
However, it is critical to get out on the proper foot. While any small tool will be an improvement and will produce effects, in time you will want to do more and more and will need a tool for this and a tool for that. Integrations are not always possible or easy.
Consider a platform that you can scale and that can cover as many topics as possible. You will avoid having to learn tens of small solutions and go through the painful process of integrating them (if possible!).
We chose only two of these tools to represent: Salesforce and HubSpot as they cover 99% of most typical needs in marketing, sales, and customer support.
There are other honorable mentions out there, like Marketo, Oracle, Acoustic, or niche players like Mautic, but we are looking at a landscape of 7k solutions. So, choose wisely. Here are some tips:
Begin by sketching out your present marketing skills and objectives.

Also, map your data flow - pay attention to how your data flows across your architecture.

After that, conduct some research. Investigate HubSpot, Marketo, and Salesforce platforms further by contacting them or a partner agency. Here's what we can tell you about our partners: HubSpot and Salesforce:
3. The benefits of HubSpot
HubSpot offers a full suite of software for marketing, sales, and customer relationship management that are powerful alone, and even better when used together. It's composed of a CRM Platform with 5 thematic hubs:
CMS Hub - the content management system that promises to quickly build and customize website pages for each individual visitor, all while ensuring that they're optimized for conversion on any device. You are free to rely on developers as much or as little as you like.
Marketing Hub - all your marketing tools and data are on one easy-to-use, powerful platform: blog, SEO, Social Media, Ad Tracking & Management, Live Chat etc.
Sales Hub - eliminates friction by bringing all your tools and data together on one easy-to-use, powerful platform your whole team will love. Some popular features are Email Templates, Email Tracking, Contact Management & Customer Profile etc.
Service Hub - brings all your customer service data and channels together in one place, and helps scale your support through automation and self-service.
Operations Hub - gives you a unified toolset that connects apps, cleans customer data, and automates business processes under one central CRM platform.
Moreover, HubSpot comes with its own marketing methodology for growing your organization: Inbound. It's based on building meaningful, lasting relationships with your prospects and customers through valuable content and experiences, and empowering people to reach their goals at any stage in their journey with you. In the end, marketing, sales, service, and operations teams can leverage the HubSpot platform to achieve their goals.
4. What makes Salesforce a good choice?
Salesforce comes with a similar structure to HubSpot's, but instead of hubs, Salesforce has clouds.
International Data Corporation has ranked Salesforce the #1 CRM solution for the past five years. But you receive more than simply the world's most popular CRM platform. You'll also join a community of 150,000+ like-minded businesses and have access to a vast network of professionals and enthusiasts dedicated to your company's success.
Salesforce CRM is a powerful tool that is safe, highly configurable, scalable, user-friendly and has an established track record. Salesforce is designed on a multitenant architecture, which implies that all clients use the same infrastructure and platform, regardless of the edition they purchase.
You can run your whole business from a single mobile app. Salesforce customers report a 40% increase in productivity with mobile. You can close deals, service customers, track marketing, and even collaborate and share files on any device — all from a single, integrated mobile app.
Salesforce changed the price model by introducing an annual per-user cost. Since then, additional cloud-based business apps have switched to a per-user subscription cost, demonstrating Salesforce's position as a market leader.
Neither HubSpot or Salesforce are e-commerce platforms. But they do integrate and enhance e-Commerce platforms such as Shopify. Custom integrations are also possible. Specific e-commerce processes can be automated and optimized. A Martech powered e-Commerce website usually manages to get 2.6 better results with only 70% of resources (Mediapost Martech data & estimations).
5. What to expect in the first 21 days
On a global basis, segmented email campaigns see 100.95% higher clickthrough rates as compared to non-segmented email campaigns. Automation can do that! How can you get similar results?
Let's look at a 21-day journey together from the moment you decide to take the first step towards a true digital transformation.
DAY 1: tracing performance
You can measure the performance of all your marketing activities in one place with built-in analytics, reports, and dashboards. It's everything you need to be a smarter data-driven marketer.
With an analytics tool you can find important pieces of information about your customers, like numbers, sources, and behavior – but as a whole, in an aggregated form.
Such a tool, like HubSpot or Salesforce, goes further and collects information about every individual customer. So you can know: WHO does WHAT action, coming from what SOURCE, WHEN he/she returns, and, most importantly, HOW MUCH business he/she generates.
You'll have a precise calculation of the profitability for each activity and recognition of top business sources.
DAY 6: data management
Most companies recognize that data has enormous importance for their business, but a large percentage admits having problems managing data.
Startups and small teams can increase their productivity and ROI by managing their data properly.
Data management is planning and controlling the way data is collected, stored, protected, and processed. Multiple users can access all or a selection of files with different volumes of data.
Businesses have the responsibility to keep up with compliance requirements that are constantly changing to ensure the proper management of data. For example, GDPR requires tracking activity history for all users, and martech platforms have this feature included.
The final result: no data in XLS/ CSV files, no security risks, modern, centralized - single authority!
DAY 9: customer segmentation
Think about the groups of people in your life — family, friends, coworkers, teens, and more, chances are you don't communicate with each of these groups in a similar manner. The same goes for your customers.
You can implement a customer segmentation strategy based on different criteria like:
Demographic & Geographic: age, gender, income, education, and marital status. Country, state, city, and town.

Psychographic & Technographic: personality, attitude, values, and interests. Mobile-use, desktop-use, apps, and software.

Value-Based (RFM): the economic value of specific customer groups in the business. RFM is a strategy for analyzing and estimating the value of a customer, based on three data points: recency (how recently did the customer make a purchase?), frequency (how often do they purchase), and monetary value (how much do they spend?). These three factors can be used to reasonably predict how likely (or unlikely) it is that a customer will re-purchase from a company.

Behavioral & Needs-Based: Tendencies and frequent actions, feature or product use, and habits. Product/ service must-haves and needs of specific customer groups.
In conclusion, you'll have a professional approach to dialogue with clients, based on science and the possibility to prepare a different strategy for each client.
DAY 15: automated workflows
Are your contacts going with the flow, or are they just sitting dormant in your marketing database?
If you don't have automated email workflows set up, your answer is probably the latter - which means you're missing out on some major opportunities to nurture and engage your existing contacts.
Abandoned carts happen when a visitor places an item in their shopping cart but doesn't complete their transaction. To solve this problem, we recommend setting up an abandoned cart email workflow, also known as marketing automation. Send the first email 1-2 hours after abandonment, the second email 12-24 hours after abandonment, the third email 48-72 hours after abandonment, and the fourth email 3 days after the third email was sent.
With communication workflow, you'll never miss a "happy holiday" or a "happy birthday" for your customers ever again and you'll have unitary and coherent communication with onboarding flows for newcomers.
DAY 21: reports
Sales reporting software gives you deep insights into your pipeline and a quick way to build more accurate forecasts. How are contacts moving through life cycle stages? How are deals progressing? Tap into multiple types of funnel reports to better understand your sales team's progress.
Think of the ways you can use this information to help your teamwork deals or refocus their targeting.
Management Dashboard is a set of reports and graphs, which allow you to see how your business evolves using real, actionable data. This could be your new 5-minute morning ritual, just after your coffee.
THE FINAL RESULT: cohesive sales
A strong relationship between marketing and sales is critical to any business's success.
By learning how your company can increase efficiency through such a tool, your sales team will stay better connected to your marketing team, and this relationship has the power to significantly boost conversions and sales. No notebooks, no lost contacts when an agent changes his/ her job, no divided sales processes. Just ONE platform working as a cohesive unit!
6. Buying and implementing
For software vendors like Salesforce, HubSpot etc., the goal is to sell licenses. Some also provide customer onboarding, but it's somehow a generic package, just teaching you the basics of using the software.
Consulting, implementation, and education partners are critical in this stage. For example, at Mediapost Martech, only 5% of revenue comes from the license sales commission. The rest comes from consulting (solution design based on business needs), effective implementation (personalizing the platform to the business needs), integration with existing systems, and training. Following the consulting phase, an honest partner will recommend the best solution, not the most expensive one!
Consulting is essential as it will define the solution and the right business needs.
Consulting averages at about 500-600E/day. A good consultant with a well-prepared client can sketch up an architecture well enough to get a preliminary licensing and implementation budget in 2-3 FTE days.
Sales and Service tools are quoted per internal users, prices averaging from 20E/user/month, up to 150E/user/month.
Marketing tools are usually quoted per contact in the database, pricing being in the range of tens of euros/ 1000 contacts. Implementation starts in the area of small thousands of euros, but it may very well reach 6 figure digits in very complex cases.
Realistic timing starts from 3 weeks and can go up to 1 year in very complex cases that require lots of integrations.
HubSpot and Salesforce offer a lot of features, and many of them cost more money than you might have right now, so reach out and we can help you figure out what to budget for an excellent automation experience and a true digital transformation.